ISPRS Geo-Spatial Week kicks off in Wuhan
---
  On September 18th, 2017, ISPRS Geopspatial Week 2017 (hereinafter referred to as GSW2017), hosted by ISPRS and Wuhan University has officially started at the Wuhan East Lake International Conference Center. Hundreds of guests from all over the world have arrived in Wuhan to participate in this gathering of ggeospatial information.
Opening Ceremony of GSW2017
  A number of distinguished guests participated in the opening ceremony, and delivered welcome address including academician Li Deren, Chairman of GSW2017 , , Professor Dou XiankangPresident of Wuhan University, Li Tao, Deputy Secretary General of Wuhan Municipal People's Government, Li Pengde, Deputy director of China Bureau of Surveying and mapping geographic information, and Professor Christian Heipke, President of ISPRS.
  ISPRS is known as "Pulitzer in photogrammetry and remote sensing". Photogrammetry, popularly understood as a technique for reading large amounts of information from images, is also a classical technique in the field of geospatial information science. In fact, the topics of GSW2017 include not only photogrammetry and remote sensing, but also many other fields, such as smart city, big data mining.
  GSW2017 will last for a week. It is undertaken by State Key Laboratory of Information Engineering in Surveying, Mapping and Remote Sensing, School of remote sensing and information engineering, Wuhan University and Geospatial information technology Collaborative Innovation Center, and is co-organized by 3SNews.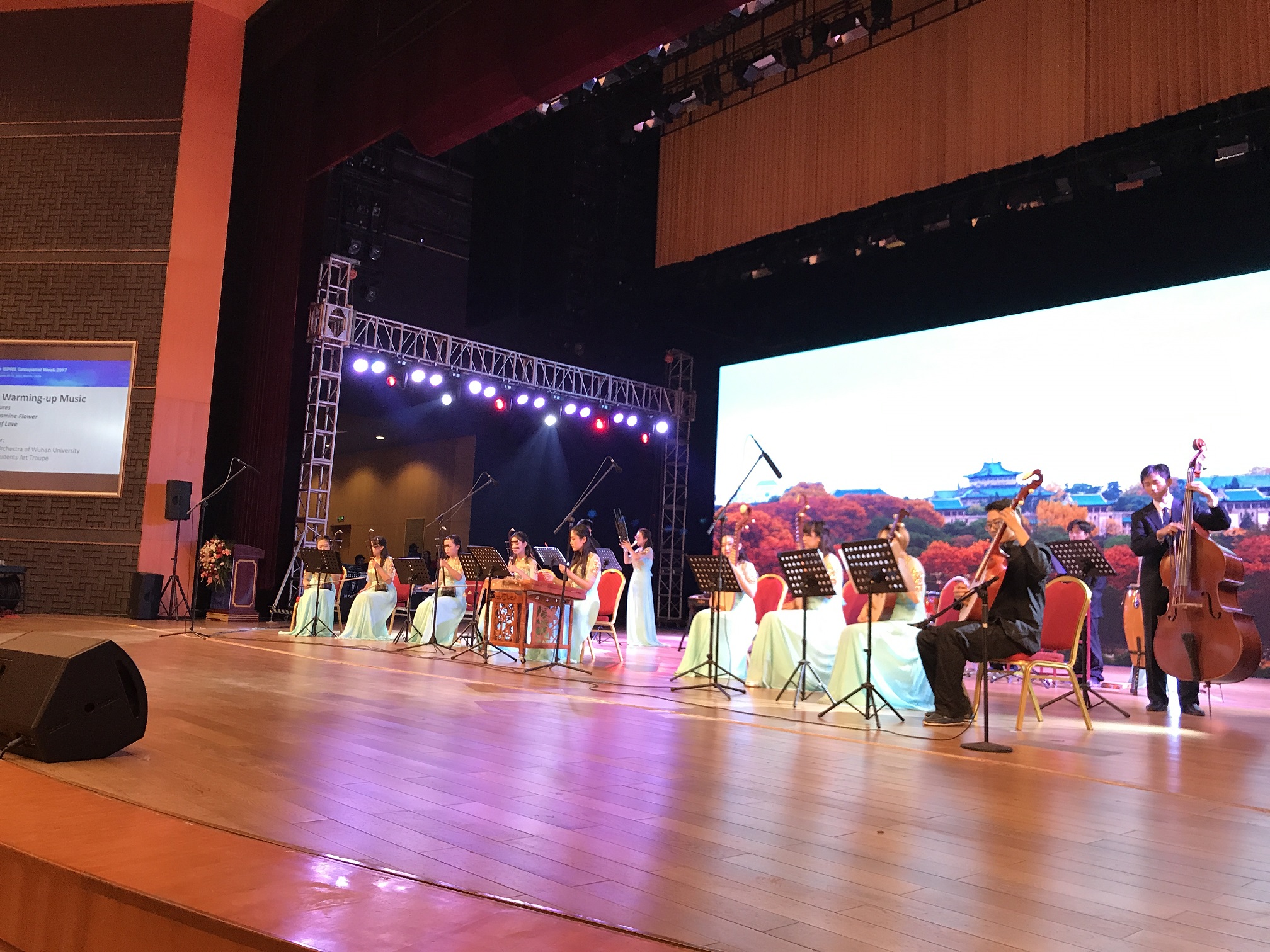 Oriental welcome programs
  Two years ago in 2015, represented by academician Li Deren, academician Gong Jianya, Professor Wu Huayi, Professor Yang Bisheng, Wuhan University win the bid to host GSW2017 in Wuhan, China, after paying as much an effort as the Olympic bid. The chairman of the GSW2017, academician Li Deren of Wuhan University, said: "we invite guests from the world to China, which is a rare opportunity for them to understand China without distance."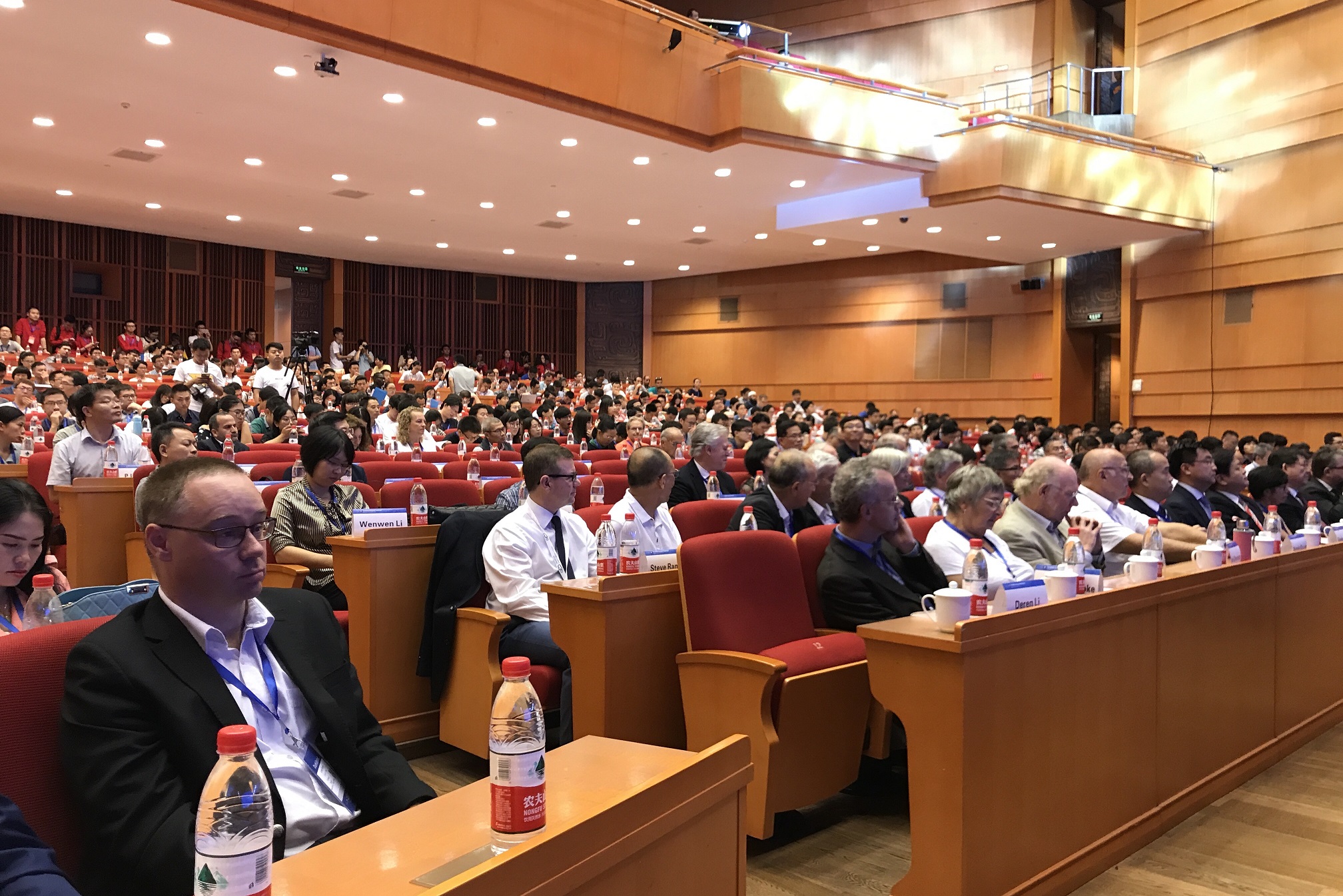 Participants from various countries captivated during first day of GSW-2017
  "With the rapid development of geospatial information science and related disciplines, the quadrennial plenary meeting of ISPRS has been unable to meet the needs of scientific and technological development and social changes." Academician Li Deren put it like this when he talked about the birth of GSW. GSW has been held twice before, the first in Turkey, the second in France, and now the third in China. In accordance with international common practices, the meeting will be prepared and carried out in English.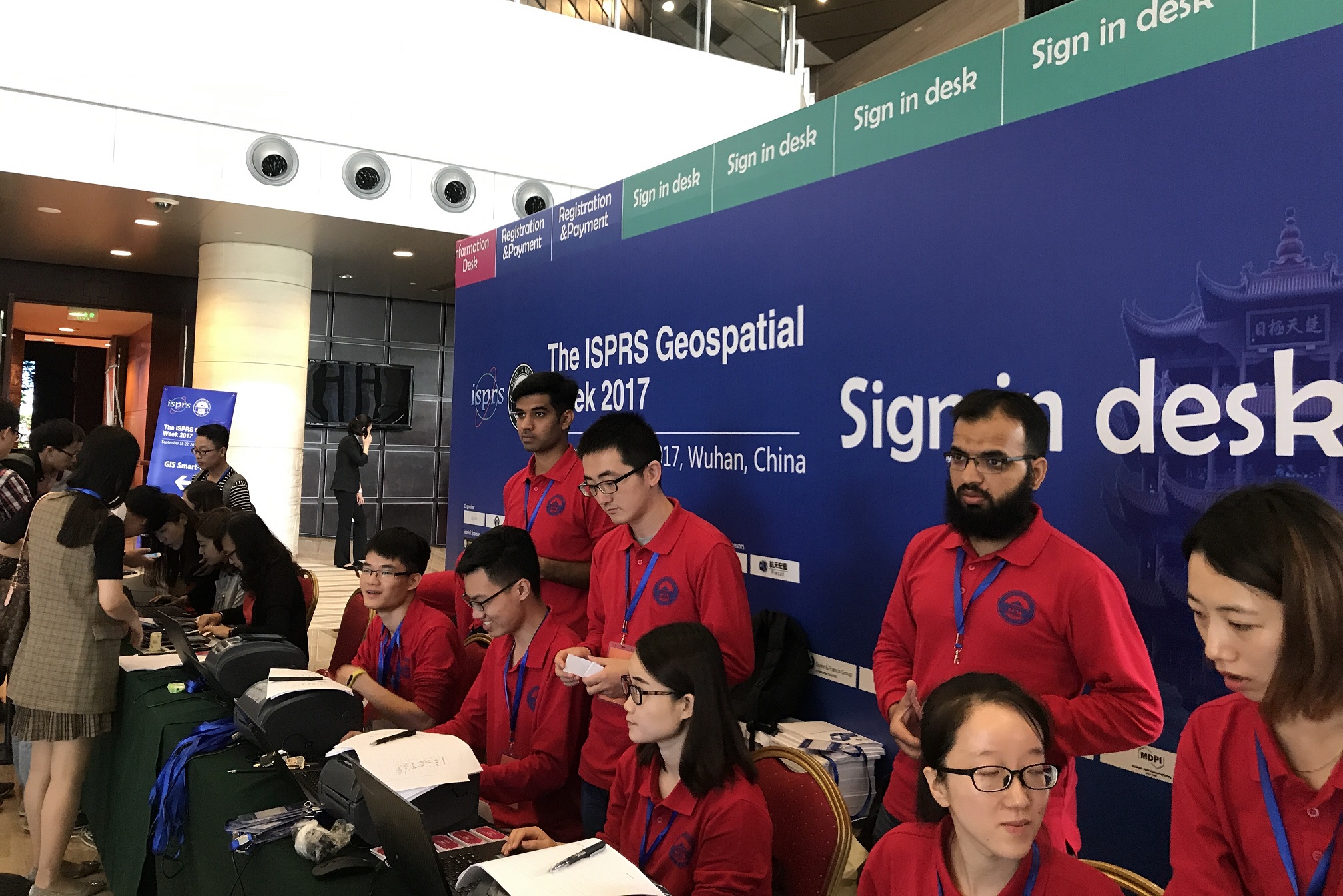 Volunteers registering participants at GSW2017 conference
  The composition of the GSW2017 meeting can be simply understood as "1+9", that is, the "smart city" seminar will be held on the first day , and 9 seminars in the next four days.
  The agenda for first day was GIS-SmartCity 2017. What is the relationship between smart city and geospatial information science?
  To answer the above stated question, Li Deyi, academician of Chinese Academy of Engineering, Steven Ramage ,member of Earth observation organization , Michael Batty, member of the Royal Academy of Sciences, Armin Gruen, professor at the Federal Institute of technology in Zurich, Meng Liqiu, vice president of Technical University of Munich, member of the German National Academy of Sciences, Lawrie Jordan, Esri business leader,arrived at the meeting on the first day and six world experts spent the whole day discussing about it.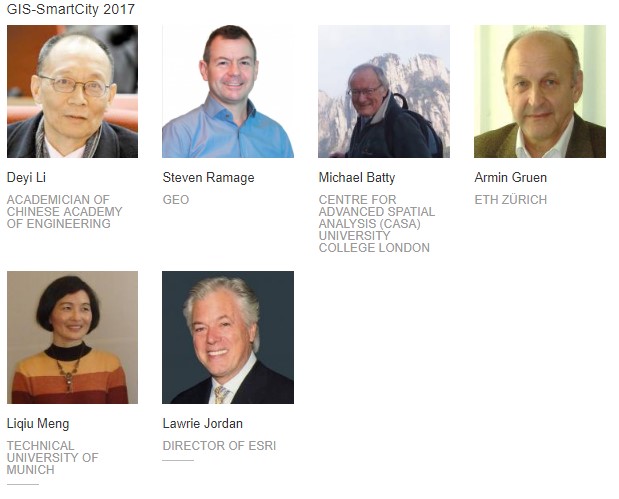 6 experts participating in the Symposium on Smart City
  Although the other nine seminars on the smart will be "crowded" within four days, they cannot by any means underestimated. They are the most up-to-date and most popular topics in the field defining the latest developments and challenges , jointly confirmed by the ISPRS organizing committee and Wuhan University.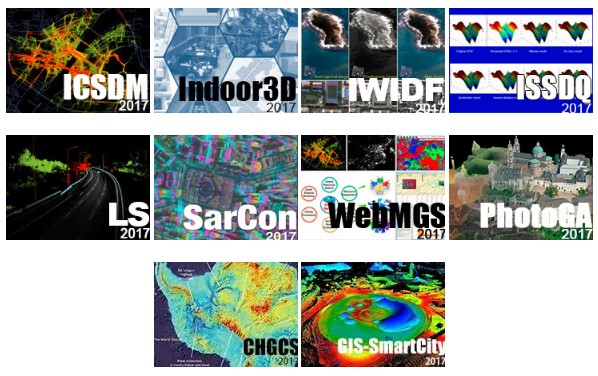 10 thematic workshops
  In the coming 4 days, in addition to brilliant lectures given by 37 guest speakers including Li Deren, these nine seminars also accepted more than 300 articles from all over the world.
  It is not difficult to find that these cutting-edge issues have aroused worldwide attention from the academic circle. Some of these authors are experts and some are inexperienced graduate students or even undergraduates. They will either make presentations at seminars or display their researches by posting on the afternoon of 20th September.
  In order to encourage the authors of excellent papers, Dr Tao Chuang, the founder and chairman of Z Venture Group, who is alumni of Wuhan University as well, personally sponsored GWS2017 award to commend scholars for their outstanding achievements in scientific research. He will also deliver a speech at the closing ceremony on 22nd September.
  With 1 workshop on the smart cityand 9 workshops on frontier technologies, will you see the future of geospatial information science in the five-day session?
  China is observing the world, China is being observed by the world
  China, of course, will also showcase some of the latest developments in Geospatial Information Science in recent years.
  The application of high resolution earth observation and Beidou navigation system has made remarkable achievements in recent years. Technologies developed by Wuhan University will also be fully displayed such as robots with autonomous measurement and autonomous identification of target objects, digital protection technology of cultural heritage, automatic modeling technology of UAV tilt images.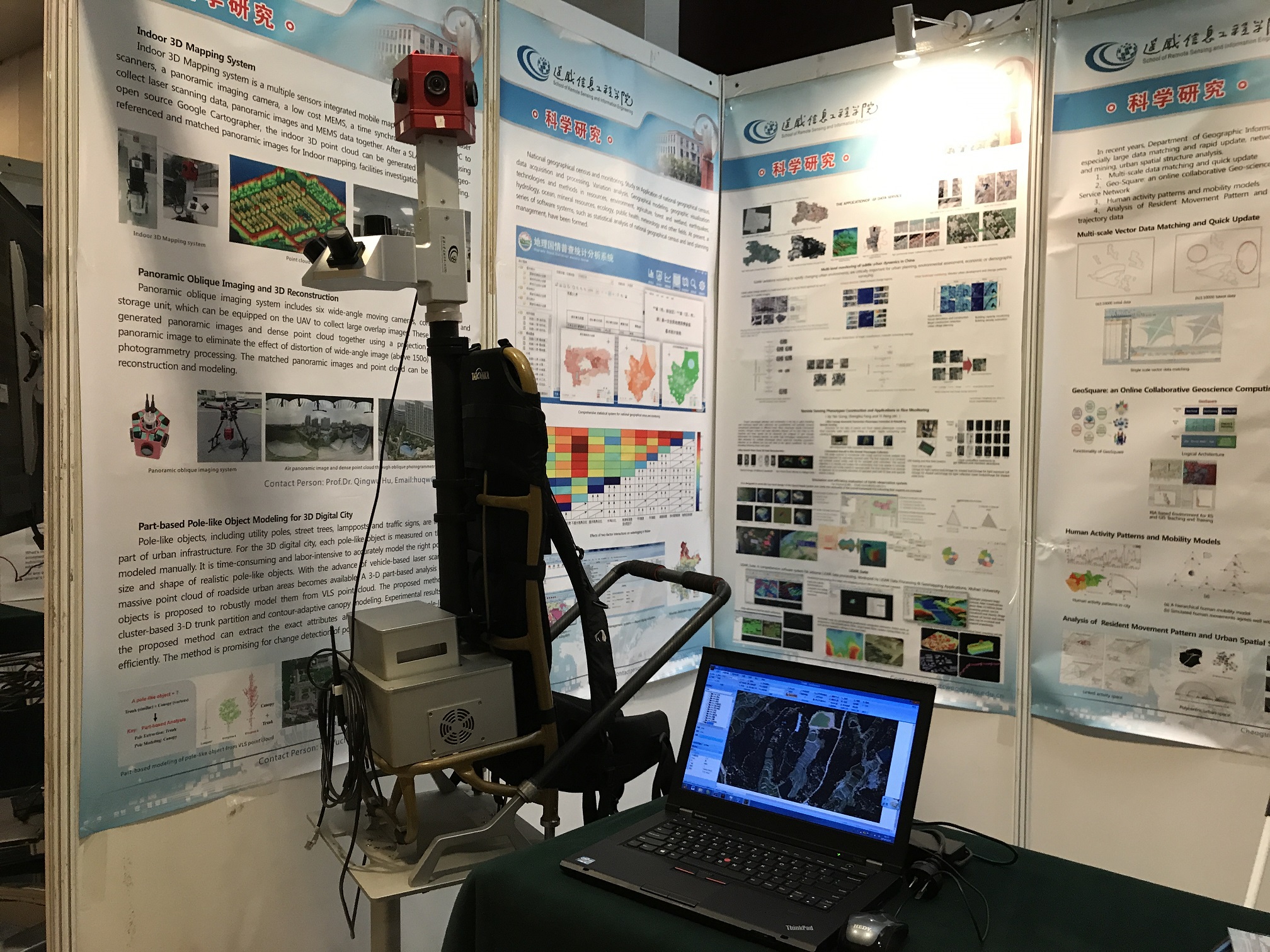 An indoor modeling robot demonstrated by School of Remote Sensing and Information Engineering, Wuhan University
  The development of China's geospatial information science can not only be shown by a wealth of scientific research results, but also can be reflected by the surge in demand for industrial users. The representative of ESRI told reporters at the conference site that more and more people are looking for the right products, technologies and solutions. Besides traditional users, more users, such as government departments and across industries, are springing up.
  Providers of these solutions are also increasing accordingly. In addition to ESRI, entities like Digital Green Earth, Aerospace Program, Beidou Open Laboratory are also providing users with richand differentiated solutions. They will show these solutions during the sessions up to 22nd September.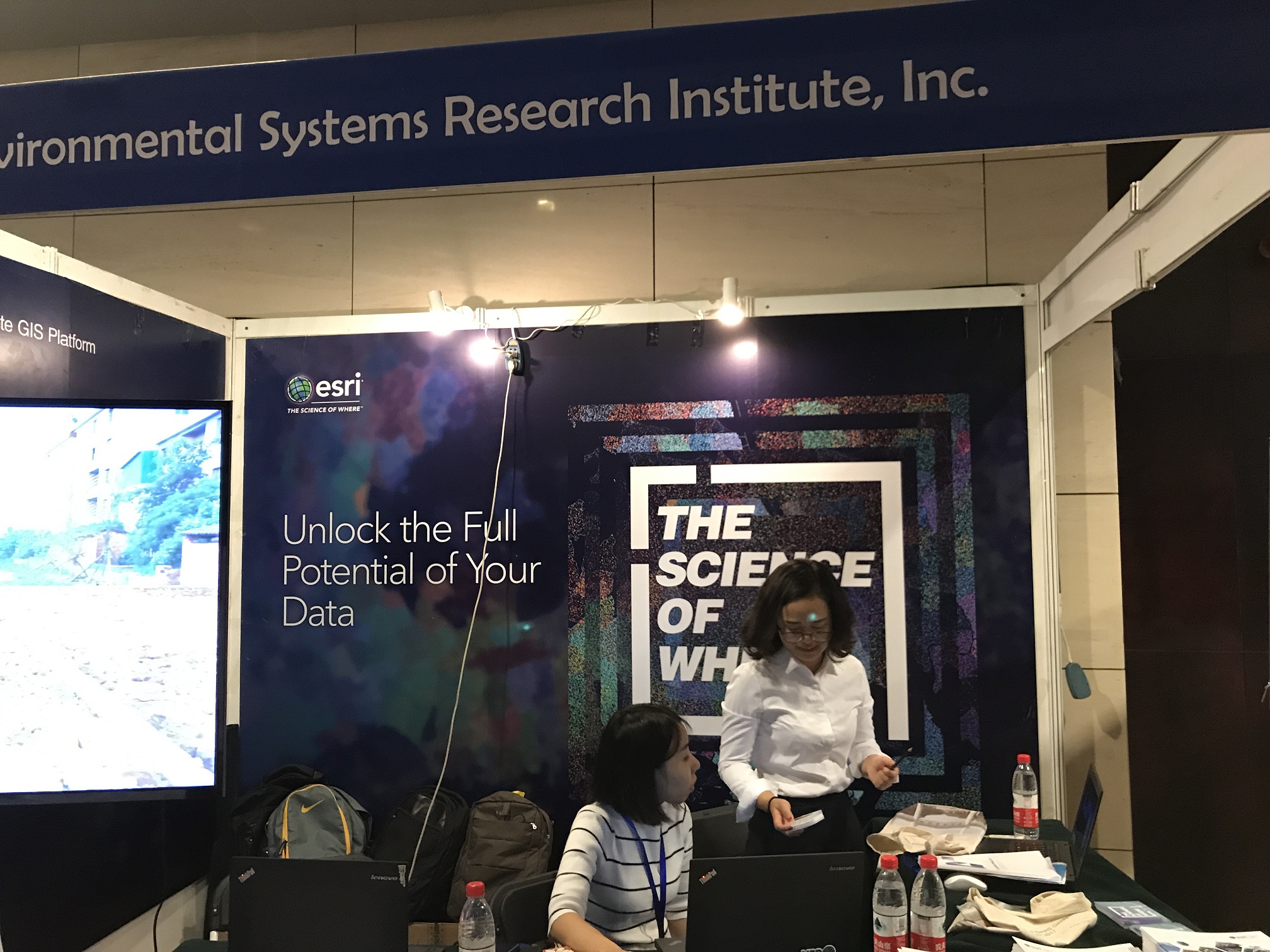 Exhibitors visiting various stalls during session break
  During the remaining days of the conference, the ISPRS organizing committee will discuss and decide on the host country and city of the GSW2019, and the results will be announced at the closing ceremony on the 22nd September, 2017.